February 2, 2013
If you're like me, you like going to the park or the beach when the sun is out to do some work, read a book, write in a notebook or have a picnic. But when the wind comes up things get blown all over the place. So I like to keep some painted rocks in my bag to weigh down things in style.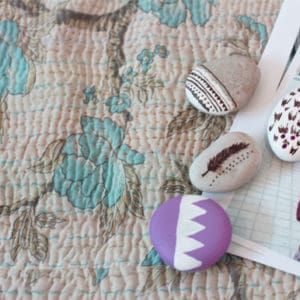 Materials:
Pick some smooth rocks from the garden or the beach
A cup of water to rinse the brushes
A few paint brushes (thin and thick)
Some acrylic paints
Newspaper to cover your work area
That's all you need! There are no rules for your rock painting so get as creative as you like. You can use stencils or do your own designs, create patterns or paint a scene. The possibilities are endless.