May 23, 2017
"Every single person has capabilities, abilities and gifts. Living a good life depends on whether those capabilities can be used, abilities expressed and gifts given. If they are, the person will be valued, feel powerful and well-connected to the people around them. And the community around the person will be more powerful because of the contribution the person is making." – John McKnight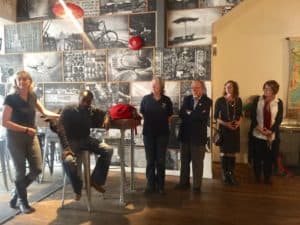 Some of us might not identify as being a community builder or an advocate for social change – but ​each of us has the potential to make a big impact in the lives of those around us.  When we show up with a lens to see the gifts and capacity of those around us and extend care and kindness to each other, we create stronger, more connected communities.
Last Thursday, members of the PLAN team were invited to participate in conversation with like-minded people​ who are t​aking​ action on social challenges​ like isolation, loneliness and re-prioritizing​ the value of  natural, informal networks of ​care.
The gathering was convened to welcome John McKnight and a team of community builders from a​cross Canada and the US​ to share with each other and learn about resilient communities.
Here's a sampling of people in the room:
Some of us create safe spaces for marginalized people to have a meal and be with friends
Some are health professionals working ​in harm reduction and responding to the opioid crisis​
Some are collaborating with families and people with disabilities to build networks and ​ensure safety and security
Some are operating low barrier homeless shelters
So​me of us are working to create informal economies to make it safe and easy for people to earn money​
​United by our deep belief in the power of community and active citizenship, ​each of us ​are community builders.
​W​hether a person is isolated by gender identity, addiction, disability, mental health challenges or any other reason – the need to be together in community is universal.
At​ PLAN, our founding families​ came together to ensure their sons and daughters who have disabilities could live good lives in their communities, surrounded by a network of supportive relationships.
Over the years, it has become clear the core values and innovative ​solutions ​our families​ created are important and relevant in all of our lives. B​eing together in caring relationships is the foundation for a good life​.
​W​e left the gathering inspired by how much we all ​have in common and​ recognizing the importance of mobilizing​ others in our movement for inclusion.
Thank you to Am Johal, Al Etmanski and John McKinght for including us in this important conversation.