December 3, 2019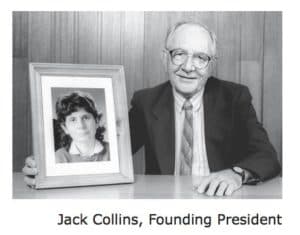 By day Jack Collins was a high school math teacher and guidance counsellor  who still spoke with traces of the Australian accent he was born with. By night he was a grass roots parent leader whose desire for a good life for his daughter Pam ushered in the community living movement in British Columbia. He did this in two ways. One, he closed the institutions that separated disabled children and adults from the rest of society. Two, he created better options in the community for them to live, learn, love, work and play. Most of the supports that we take for granted in British Columbia for disabled people and their families would not exist were it not for his advocacy.
Jack didn't do this by himself, no one ever does. For that reason he would not like being the focus of this article and I would be told in no uncertain terms to never do it again. The fact remains that he transformed a middle of the road
parent organization now called Inclusion BC into a trim, effective advocacy force that blocked roads, sued government and was constantly in the media. He also created the conditions for individuals, groups and organizations to work together in the 1980s and 90s to change the face of disability in British Columbia. In today's language he was a movement builder. Jack had a steel trap mind, and a genius for organizing. In his characteristic get- to-the-point style he named his key committee, Analyzing and Influencing Government Policy. And did it ever. The committee's work would lead to the closure of British Columbia's three big institutions, all its segregated schools, and most of its soul destroying "day centres," decades before most other jurisdictions in North America. His "telephone tree" was admired by advocates and feared by government. With one phone call he could mobilize the entire province. He would call 5 people who would each call five and so on. Instant communication in the days before conference calls and the internet.
Jack wasn't flashy or bombastic. He was authentic with an emotional clarity and immediacy that eludes most people. When he talked disabled people, parents, families, service providers and eventually even government listened. His no nonsense manner was camouflage for a heart of gold. A heart enlarged and enlightened by his daughter Pam. Pam and her peers were showing us what living a good life in the community meant. Jack showed us how to invent the supports to make sure that happened. If you had a good idea he'd support it, perhaps even join in and help as he did in co-founding Planned Lifetime Advocacy Network (PLAN) with Vickie and me. If you complained about something not being available he'd tell you to do something about it. There is a generation of social innovators in the disability movement who owe their start to Jack. I'm one of them.
The sadness never left Jack's eyes after Pam's tragic death. In her honour he renewed his efforts to establish PLAN as the largest family based disability organization in the country. I can't remember whether he spoke with 5000 families in PLAN's first three years or 3000 families in our first five years. And most of it was done face to face! I've worked with lots of elected and unelected political leaders over the decades. Jack is among the best of them. He could have run the provincial education system. Instead he poured his brilliance into building the foundation of the house
the BC disability community is refreshing today. His glorious, understated activism exemplifies the truth of social change. Never underestimate the extraordinary power of so-called ordinary people to change the world. Especially
when love and necessity come together. Rest in peace Jack. You have taught us well.
Jack Collins born 1929, died December 5, 2014
– written by Al Etmanski (Nov. 6, 2019)
_____________________________________
Do you have a story about a Family Leader who has made an exceptional impact or your life, or the life of your community?