November 5, 2020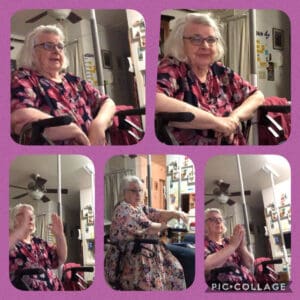 Hi to all, I would like to share what I have been doing since COVID-19 started and how am I connecting to the community, with my family and friends amidst the pandemic.
Before it all started, I used to go out every day to do the activities I enjoy for my optimum well-being. I used to swim and do the exercises at Pearson Pool three times a week which I always looked forward to. I did some arts and paintings with a creative, nice and friendly group of people. Also, I used to have lunch and do some fun activities at Renfrew Collingwood Seniors Society, Coffee Social and some crafts and arts at Collingwood Neighbourhood House. I'd also visit and watch the beautiful birds in Bloedel Conservatory or have a nice walk and picnic at Trout Lake and enjoy the beautiful view.
These are the things that I miss to do.
But COVID-19 made me a more resilient person and I have developed new skills.
Now, I have more time to cook recipes. It also allowed me to develop my leading skills by hosting a video stretch with my friends and my sister Wynne from Victoria two times a week. 
I also get to host the creative time every Saturday and do some arts with fellow creative people. And I started to join the laughing yoga every Friday and it's really fun. 
I hope you all the best and be happy always.
Thank you from Joan Gorman.