January 31, 2013
By Nicholas Wright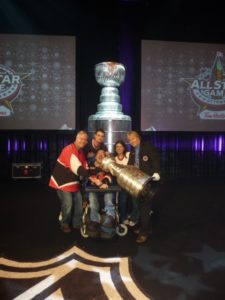 I admit it. I am a sports addict. But I never plan to give up my addiction! My favourite sport is hockey and I am the #1 fan of the Ottawa Senators. I have a season ticket package for home games and I subscribe online to a program called "Centre Ice" that gives me the chance to watch every game in the entire NHL season.
How do I support my team online? I write a hockey blog called "The Hockey Ambassador" (thehockeyambassador.blogspot.ca). Drop by even if you are not a Sens fan. I write about all the latest hockey news and scandals! At the time of writing this article, my blog has almost 7,000 hits – pretty cool.
This year, I added a twitter account to my sports broadcasting career. So far, I have 61 followers and it's growing!
The signature on my emails reads "Nicholas Wright – Sports Media Research Analyst". My next life ambition is to work with my team, the Ottawa Senators. I believe that I would make a great fundraiser, selling 50/50 tickets at games. I have a loud voice and I'm not afraid to use it for the good of my team!
Life is sports and sports is life. Go Sens Go!
Nicholas Wright is a young man with severe physical disabilities and chronic pain.  Although Nick spends most of his time relaxing in bed, his interest in sports and computers keeps him busy and engaged with family and friends.  He keeps a beer fridge by his bed for game time and he welcomes all sports fans into his 'Man Cave', even Leafs or Canucks fans.