January 31, 2013
By Tom Mooney –  Parent & Lifetime Member of PLAN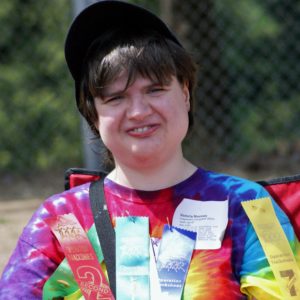 It was 10 years ago. Vicki was in grade nine at Windsor High School in North Vancouver and her teacher, Mr. "C", sent her home with an envelope marked Operation Trackshoes. For some reason I thought it was a program to collect footwear for a third world country or something, so it sat on my desk for a long time. At a school meeting one day, Mr. C asked if I had received it, and I said yes but brushed it off with "we are always very busy, maybe another time". I still had no idea what it was.
It wasn't until much later that I was cleaning out my desk and almost tossed the envelope into the recycling. Curiosity had me open it just to confirm it was a plea for footwear for the underprivileged. Was I ever wrong! It was an invitation to attend Operation Trackshoes, a sports festival for British Columbian's with developmental disabilities. It had been held at the University of Victoria one weekend every June for the past 30 years. Although it was too late for us to attend that year, the event was definitely something we were interested in.
The following year we registered Vicki as an individual day competitor. Vicki and I traveled to Victoria and stayed at a hotel near the university. The event had about 400 participants, supported by a nearly equal amount of volunteers, many family members and caregivers.
At the registration area that first year we bumped into Pam who had been in elementary school with Vicki years earlier. They had lost contact when Pam moved with her family to the Gulf Islands. Friday night after a pasta and salad dinner, there were movies, karaoke and other social events. Later that night we made new friends with Mr. C's class from Langley and folks from all over British Columbia, including other supported individuals we had known as children who had moved to other communities. Vicki was also reacquainted with kids (some now adults) that had attended Easter Seals, Camp Squamish over the years.

Each year the Operation Trackshoes schedule is similar. Saturday morning starts hundreds of people gathering for a hardy breakfast and then assembling for the parade in the stadium. Being an individual competitor, Vicki is often invited to join one of the larger groups and given a coloured bib or T-shirt to match the group. For the past few years, Vicki has proudly worn a tie-dyed T-shirt making her an honorary Salt Spring Islander. The event includes games such as horseshoes, ball tossing, wagon racing, tug of wars, sack racing and other traditional events like the 50 meter dash, long jump and hurdles. They also have special sporting events in the gym for participants using wheelchairs. In the afternoon there is a 25-metre swim event, followed by a break to get some rest at the hotel and get dressed up for the banquet. To accommodate the large number of people, three banquets are held: junior, teen and adult, all followed by a dance with live band.
After Sunday breakfast, the meet resumes and the fun continues. Vicki was teamed up for the 4 x 100 relay. The more serious athletes run a 1500-meter race. There are always Operation Trackshoes souvenirs at the shirt shop tent. To conclude, awards are given out and there is a closing ceremony, then back to the cafeteria for pizza and salad, where everyone says their goodbyes until next year.
Many of the camps our children attend are not available to them as adults. But Operation Trackshoes is one event that our children will not outgrow or age out of. Please mark your calendar and join us June 13th – 15th, 2014 , for the 44th annual Operation Trackshoes.