July 15, 2013
By Jessika Grant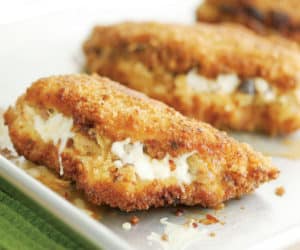 This cheese-stuffed chicken recipe is very easy to make and will warm you up on a cold winter's night. Enjoy!
1 – 8oz package of cream cheese, cut into 1/4″ slices
1 cup milk
1/2 cup romano cheese
1/2  tsp garlic salt
6 chicken breasts
1-8 oz package cheddar cheese, cut into 1/4″ slices
1 1/2 cups Italian bread crumbs
1 tbsp garlic, minced
2 tbsp lemon juice
1/2 tsp paprika
Preheat oven to 350° F. Lightly grease a large casserole dish.
Butterfly each chicken breast and place a slice of cheddar and cream cheese in each breast.
Pour milk into a shallow bowl. In another bowl, combine crumbs and romano cheese. Dip each breast into the the milk and then the crumbs. Then place in a baking dish.
Melt butter in a saucepan over medium heat. Stir in lemon juice and garlic. Drizzle evenly over chicken. Season chicken with garlic salt and paprika.
Bake for 30 minutes.
Serve alone or on pasta and enjoy!
Jessika is the Manager for Finance and Administration at PLAN.