August 1, 2013
1. Terry Fox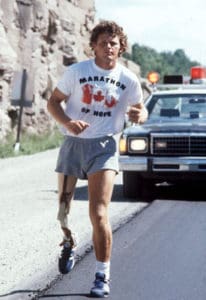 If you are Canadian, you will know this name very well. In 1980, after loosing one of his legs to cancer, Terry embarked on a run across Canada to raise awareness and money for cancer research. Although the cancer spread, forcing him to stop running after 143 days, he inspired a nation of people. His legacy has carried on to this day, with the Terry Fox Run as a yearly tradition; you can sign up for this year's race on September 15.
2. Rick Hansen
Rick Hansen, another inspirational Canadian athlete, was left paralyzed from the waist down after a vehicle accident at the age of 15. He went on to become a Paralympian and wheelchair marathoner, winning dozens of medals. He also started the Man in Motion Tour and currently runs the Rick Hansen Foundation, which advocates for those with spinal cord injuries.
3. Ashley Gowanlock
Ashley Gowanlock was introduced to riding at an age when most of her peers were busy learning how to walk. At just two years old, Ashley was diagnosed with Cerebral Palsy and began riding for therapeutic reasons. She quickly discovered a love for the sport, the challenges it presents and the freedom it affords her. Ashley is also a spokesperson for United way, The Child Development Centre, Pacific Riding for Developing Abilities, The Canadian Paralympic Committee and Clean Air Champions. She is currently training for the 2014 World Equestrian Games in France.
4. Victoria Nolan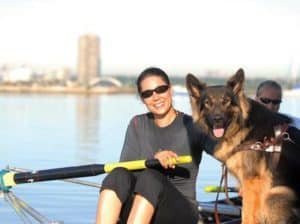 Victoria is a World Champion rower, Paralympian, teacher and mother of two. Diagnosed with retinitis pigmentosa (RP) at the age of 18, she now has only 3% of her vision. She started rowing at the age of 31 and just one year later made the national team. She has proven that with dedication, anyone can overcome their challenges.
5. Luca "Lazylegz" Patuelli 
Luca Patuellie was born with arthrogryposis, a rare disorder characterized by limited joint movement and poor muscle growth. Even after being diagnosed with scoliosis as a child, he was always very active and never let his disabilities stop him from enjoying sports. As a teenager he discovered breakdancing, a style of street dance also know as B-boying. He became very involved in the sport, and found ways to predominantly rely on his extreme upper body strength and to incorporate his crutches into his unique style. Today he is world renowned in the dance community and has started a group called "ILL-Abilities", an international dance crew that includes top world dancers of all abilities.