October 11, 2013
By Joel Crocker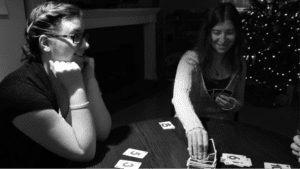 >
For many people with a disability who have low income, making any type of contribution can feel challenging. They often have concerns like how to afford community activities or pay for transportation to participate fully in things that interest them. Those who worry about having enough money to eat or pay the bills often withdraw from their friends and their community. In these situations, building a foundation of financial security can help free them up to contribute in many ways.
Jacynthe and her family have found that the Registered Disability Savings Plan (RDSP) is helping her to build financial security. By making regular financial investments into her RDSP account, Jacynthe is pleased to be seizing an opportunity to contribute to her own future, and the returns will be more than just money in a bank.
Jacynthe contributes in many ways. She likes to spend her time drawing pictures, and her best work hangs in galleries and homes throughout British Columbia. Jacynthe also devotes a lot of time to her family's dog, Max. She is the main person responsible for Max: taking him to obedience training, buying his food, finding people to look after him when she is gone for the day, and, one of her favourite activities, going to the dog park. Jacynthe recently worked part-time as a support worker for a man with disabilities. Family and friends would remark on Jacynthe's giftedness as a support worker: she helped him to become more independent through exercises, including modifying a card game in small steps so that he re-gained the use of his hands. Although Jacynthe was earning a modest wage that left her little disposable income, she began to invest a portion of her salary into savings every month. Though she is no longer employed, living only from her disability benefits, Jacynthe still contributes $125 per month –$1500 per year– into her RDSP. She is eligible for both the grant and bond and so receives an additional $4500 per year from the federal government. The total annual contribution, $6000 per year, is always earning interest. Recently, her investment advisor congratulated her for keeping her money invested and ignoring the vagaries of the market. Many RDSP clients change their mutual funds, decreasing their risk tolerance and therefore losing their investment in the process, so that they gain little to no interest on their investment capital. By staying the course, Jacynthe has made an average of more than 7% annually. In this way, Jacynthe is contributing greatly to her financial future and also learning important life lessons about interest, investing, banking and personal finances.
Laurie, Jacynthe's mother, dreams that Jacynthe will live safely and as independently as possible to the end of a long and healthy life. Laurie hopes that Jacynthe will not have to survive using the income of disability benefits alone, but will have additional funds to help her live comfortably into retirement. Because RDSP income does not affect disability benefits, Laurie is confident that an RDSP is one of the key ways for Jacynthe to contribute to and invest in her own future's financial security.
Jacynthe agrees with her mother. She knows that if she continues to contribute a portion of her small salary into savings now, she will remain able to contribute to others far into the future. As she ensures that her future financial needs are taken care of using the RDSP, Jacynthe is building a good life for herself: one filled with drawing and time shared with her parents, siblings, friends, pets and her community.
Photo: Jeff Gibbs