December 14, 2013
By Laurie Geschke
3/4 cup butter
3/4 cup honey (or 1 cup brown sugar)
3/4 cup molasses
1 egg
2 ½ cups flour (or 2 1/4 cup flour, if using sugar)
2 tsp baking soda
1/4 tsp salt
1 rounded tsp ground ginger  (be less generous if using white flour)
1 rounded tsp ground cinnamon   (be less generous if using white flour)
½ rounded tsp ground cloves   (be less generous if using white flour)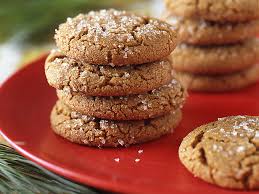 Preheat oven to 375 degrees F. Beat butter, honey (or sugar), molasses and egg until creamy.
Sift flour, soda, salt and spices together. Add to creamed mixture and blend well.  Dough will be sticky if you used honey. Form into balls and roll them in granulated sugar. Place about 2 inches apart on greased baking sheets. Bake about 10 minutes.  Let cool a little before removing to cooling rack.
Makes about 48 cookies.  Cookies will stay soft inside if you use honey. These cookies make great dunkers for Santa and everyone else!