February 26, 2014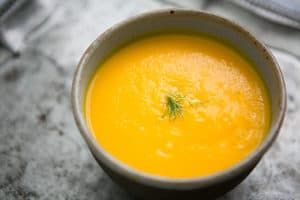 This soup is a wonderful blend of coconut milk, ginger, carrot and tomato. It's so easy to make and is good for your health and your soul.
Ingredients
1 28oz can fire roasted tomatoes
1 can coconut milk
1 L chicken stock
1 – 2 medium carrots
1 – 2 celery stalks
2 cloves of garlic
1 tsp turmeric
1 tbs olive oil
1 tsp cumin
1 – 2 chilies
1 inch of fresh ginger
2 tbs curry paste
1/2 an onion
Directions
Heat the olive oil in a large pot.
Add the onions and garlic and sauté until the onions are transparent, stirring occasionally.
Add the ginger, carrots, celery and chilies and fry for 3 minutes.
Add the tomatoes and fry for another 2 minutes.
Add the chicken stock and spices and bring to a boil.
Turn down heat and simmer until carrots are fairly soft.
Take off heat and let cool.
Add the coconut milk and pour into a blender and puree until there are no lumps, or until desired consistency.
Top with cilantro or parsley and serve hot.
Enjoy 🙂