March 19, 2014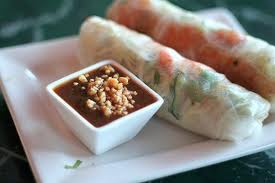 This is one of my all-time favourite recipes. It is so easy to make, delicious and healthy. It's a great way to pack in tons of vegetables and impress your diners at the same time.
What you'll need
8 large cooked shrimp, peeled, de-veined and cut in half (Chicken or pork are also good options)
1 package of rice vermicelli
4 sprigs of cilantro
4 sprigs of thai basil leaves (optional)
1 carrot,  cut into thin matchsticks
¼ cucumber, cut into thin matchsticks
Salad greens
8 rice paper wrappers
Peanut Sauce
3/4 cup natural-style creamy peanut butter
1/4 cup plus 2 tablespoons water
2 tbsp freshly squeezed lime juice (from about 1 1/2 medium limes)
4 1/2 teaspoons soy sauce
2 1/4 teaspoons chile-garlic paste (optional)
1 medium garlic clove, mashed to a paste
1 tsp toasted sesame oil
2 tbsp hoisin sauce
Mix all peanut sauce ingredients together until everything is blended well. Set aside.
Chop all vegetables and lay out on a plate so they are ready to assemble.
Use a frying pan or casserole dish wide enough to fit the rice paper wrappers and fill it with half an inch of hot tap water. Take one rice paper wrapper at a time and soak in the water for 15 seconds or until soft. Take out and lay flat on a plate. Add a small amount of each ingredient and roll up tightly while tucking in the ends. Make as many rolls as desired and serve cold with peanut sauce for dipping. Enjoy!