August 25, 2014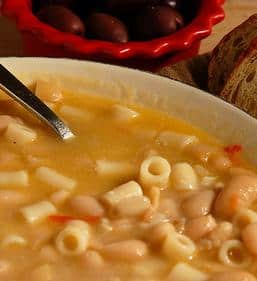 For 4 Servings
1 1/2 litre of Chicken or beef bouillon
1/2 medium size onion thinly sliced
1 can of Italian Beans (Cannellini, Romano or White Kidney)
1 tbsp of freshly chopped parsley and some freshly Grated Parmigiano
2 tbsp of Virgin olive oil
3 handfulls (100 grams) of smaller pasta for soups (shells or a small tube pasta are ideal)
In a large pot fry the onions in oil until translucent and start to change colour.
Drain the beans well from their liquid and rinse them in a sieve under tap water, then and add them to the onions.
Stir for one minute, then add the broth and boil for 5 minutes.
With a hand blender briefly pulse the soup to break up the beans (roughly 10 seconds).
Now add the pasta, and cook for the recommended time.
When cooked, add the teaspoon of chopped parsley and serve, adding plenty of Parmigiano on top.
Note: This simple but tasty country folks soup should be fairly thick, not liquid like a consommé.