September 25, 2014
By Paul Caune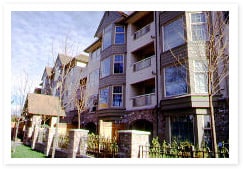 The housing options for many British Columbians with disabilities are slim. Many live in unfavourable long-term residential care facilities, Single Room Occupancy dwellings, shelters, group homes that vary greatly in quality, or worse, on the streets.
Vancouver housing is hard enough to afford on a full-time salary but for people on Disability, being able to purchase or rent market-rate housing is near impossible. Furthermore, Vancouver has a great shortage of housing that is truly accessible and affordable with the proper personal care supports for adults living with disabilities.
But I am one of the lucky few to live in such housing.
My apartment is 700 square feet, has hard-wood floors, granite counter tops in the kitchen, is designed for a resident in a wheel-chair with a genuinely wheel-chair accessible balcony and shower, has all the major appliances included and it has one bedroom and a den. My building is four blocks from a Sky Train station, a block from the nearest accessible bus stop, and close to lots of amenities and green spaces.
My unit is one of eight units owned by the not-for-profit Vancouver Resource Society (VRS) in a seven–year-old market-rate building. Each unit is for adults with disabilities who can direct their own care as they see fit. Each unit is subsidized by B.C. Housing so my rent is only $375 dollars a month.
VRS has care attendants in the building who service five out of the seven people with disabilities living there, 24 hours a day. The other two people with disabilities share the staff at night but their care during the day is provided by outside support. The care is paid for by the citizens of B.C. through the Vancouver Coastal Health Authority.
I live in freedom and dignity. I can entertain my friends and family as I please and there are no restrictions on visiting hours. I can shower everyday, eat what I want, and I don't have to be afraid every waking moment. None of this was possible in the long-term residential care facility I lived in from 2005 to 2007.
Because the supply of this kind of housing is low and the demand for it is very high, there are very long wait lists.  And until the supply of this kind of housing is greatly increased, by default people with disabilities will continue to be subjected to living in inadequate situations.
Hopefully as more awareness is brought to this crisis, government and non-profit organizations will focus on making housing for all citizens a priority.
Paul Caune is the Executive Director of Civil Rights Now, a not-for-profit society that advocates for legislation to protect the civil rights of people with disabilities. Paul is one of the recipients of the 2014 Courage to Come Back Award.
 To find out more about the Independent Living Model, go to vrs.org