October 18, 2014
The partner of our lovely Office Assistant is an amazing cook and recently made a huge batch of this chili which she brought in for lunch everyday for a week. We all got to try it and it has become a fall favourite around the office. It is so hearty, healthy and most importantly, delicious!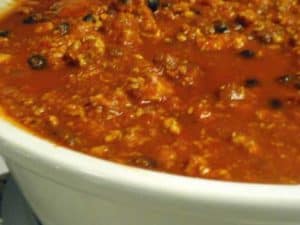 Prep time: 30 mins
Cooking time: 1.5hr +
Makes one large pasta pot (about 11ltr stock pot size), roughly 25 servings of chili
Ingredients:
4 cups chopped onion (about three onions)
4 cups chopped celery (one bunch)
3 cups chopped carrot (about 6 carrots)
2 cups chopped poblano peppers (or green peppers)
2 cups chopped mushrooms
1 can chick peas
1 can kidney beans
1/3 cup minced garlic
1/3 cup chili powder
1 tablespoon red chili flakes
Salt and pepper to taste
2 cups frozen corn
4 lbs ground lean chicken
1 cup quinoa
1/2 cup cooking oil
3 large cans of whole peeled tomatoes
1 bullion cube
1 small can tomato paste
Preparation:
In large pot, pour half (1/4 cup) of the cooking oil and add onion, celery, carrot and a pinch of salt, turn on low heat.  Sweat veggies until onions are clear, about 20 minutes or so.
While the veggies are cooking, use the rest (1/4 cup) of the cooking oil to brown the ground chicken in a skillet on medium heat. Look for colour to start forming, then add tomato paste, garlic and chili. Saute for 5 minutes, then add the chicken to the pot and deglaze the skillet by pouring a can of tomatoes in.  Then add to the pot with the rest of the ingredients.
Simmer for at least one hour.  Serve with cheese and green onion if desired!