February 1, 2016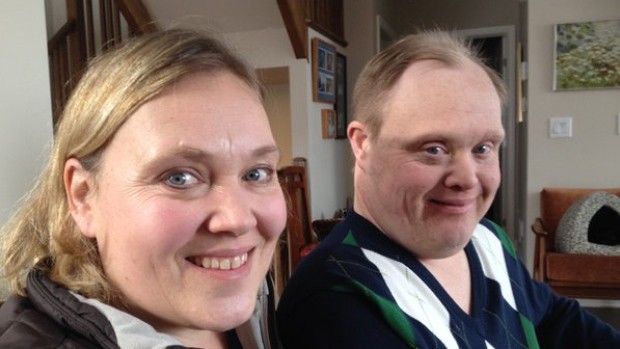 Paul Knoll, his sister Helen Ries and her husband, all live together in Ottawa. Paul has Down Syndrome, and last year, after their mother died, it changed their lives completely.
​Over the past year, Helen has stepped into the role of being Paul's caregiver.  And it's been quite a year.
In fact, when she went to blog about the past year's experiences, she decided to call it her Failure Report. That report is both a call for reflection and a call to action — with a look at how families care for loved ones with intellectual disabilities, and the role of community and government.
Helen and Paul are part of an important demographic shift as more and more Canadians with intellectual disabilities outlive their parents.
Helen Ries joined Anna Maria from Ottawa to speak to the challenges she faces caring for her brother Paul Knoll and how their relationship has changed.
"Attempting to maintain the same standards as my parents was for me impossible and soul-destroying."–  Excerpt from Helen Ries' blog post, "Failure Report"
Al Etmanski has spent decades helping parents plan to ensure their children with disabilities have independence and freedom after their parents' death. He is the co-founder of the Planned Lifetime Advocacy Network or PLAN. His organization is focused on the long-term future of people with disabilities.
According to Etmanski, families like Helen Ries' reflect the future of caring for people with disabilities. He has been working with families, helping parents plan for independence and security for their children with intellectual disabilities when they die.
We're interested in hearing your experiences as a parent or sibling caregiver of someone with a disability.
Send us an email, find us on Facebook or on Twitter @TheCurrentCBC.
This segment was produced by Ottawa Network Producer Matthew Kupfert.
We asked for an interview with Helena Jaczek, Ontario's Minister of Community and Social Services. She was not available, but her office sent a statement, which reads in part:
"In 2014, the Ontario government invested 810-million dollars over three years to improve developmental services, including providing new funding directly to clients and families. Approximately 20-thousand adults are currently receiving direct funding through the Passport program, allowing families to purchase the services they need, including respite for caregivers."
For original post, click here