July 15, 2016
By Dallas Hinton (Reposted from 2014)
Our daughter Nora, born with Down's Syndrome, has for some years been known as Rainbow—she chose that name because she love nature and it seemed to suit her. At the end of Grade 10 she had a hemiplegic stroke leaving one side paralyzed. Since then she's been working hard to regain the ability to walk and to carry out many other daily tasks. We've discovered many sports activities we might never have tried before and find that most can be adapted quite well to accommodate people with special needs. Kayaking is one of the adapted sports Rainbow has enjoyed the most and has had the most success with.
A couple of years ago we heard about the Vancouver Parks Board Access Services Outdoor Adapted Program which offers disabled people opportunities to experience a number of sports, including kayaking. We signed up on the theory that Rainbow might like some of the activities and, in any case, it was all good experience. When it came time for the kayaking segment we were a bit uncertain as to how she could ever be safe, let alone enjoy herself. We were certainly surprised!
We discovered that some of the kayaks had been modified with pontoons or outriggers to prevent them from tipping over. That was a great relief for us, since we knew if she did tip over she'd be in a lot of trouble. For her first time out she went in a double with her companion. This was only partially successful, since she really couldn't paddle herself and said she felt like a passenger. She had a short excursion and then came back to shore. A little while later she was offered a chance to try a solo ride in a kayak that was fitted with an OAR as well as pontoons. "An OAR," I wondered. "How is she going to use that?" It seems that an OAR is actually a One Armed Rig, wonderfully designed and built by Nanaimo's Bruce Fuoco, himself a hemiplegic kayaker.
This attempt was a complete success— Rainbow paddled for a long time, getting coaching from both Bruce and Mercia Sixta (with boats generously donated by Western Canoeing & Kayaking of Abbotsford, BC). The whole time she was out on the water she was grinning from ear to ear, and eventually was so exhausted she had to be towed back to shore. For the rest of the summer all we heard was "when can I go paddling again?"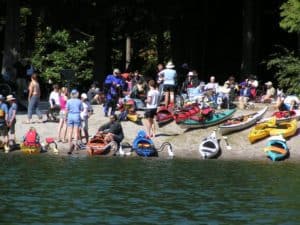 After some discussion (read, "pressure from Rainbow"), we decided to take her and her companion to Mercia's adapted kayaking weekend in September. She had some pool training and then went to nearby Alice Lake where Bruce gave Rainbow more coaching. The weather cooperated and the people were marvelous—Rainbow had a wonderful time and my wife and I were becoming increasingly jealous of all the fun she was having. We were particularly impressed with the incredibly supportive atmosphere, with everyone sharing ideas and helping when needed—a rare treat for us! The weekend was marvelous and we went back to Vancouver thinking and talking about possibilities.
Over the winter we did a lot of reading (WaveLength inspired us) and I took a course at one of our local pools, eventually achieving the lofty title of 'Flatwater Kayaker' and being declared capable of rescuing myself ('Solo Capsize Recovery')—the hardest part of the course was getting up the courage to capsize!
We decided to get our own boats, so we talked to Mercia who recommended the Necky Santa Cruze (with which we're very happy). Bruce not only supplied the parts for pontoons and an OAR, but also came over to the house and fitted them. We modified our old motor home so we could carry the kayaks on the roof (we couldn't pull a trailer because of the wheelchair lift on the back) and although it was a bit of a challenge, it's worked. Since then, we've been twice to Hayward Lake as well as Trout Lake, and twice to kayaking camps in Squamish. Now we're increasingly able to go out independently as a family. Each time Rainbow's skills and confidence have improved and she stays out for longer and longer. You've only to look at her face to see the joy she's experiencing!
We've discovered a new hobby with great new friends who understand disabilities and can see the person behind them. We've discovered a new way to enjoy the outdoors as well as an activity that will help our daughter with her mobility, increase her independence, and help her develop her social skills.
If you'd like to know more about the community of paddlers with disabilities, here are a couple of links to get you started:
• Bonnie Friesen at Vancouver Parks Board: http://vancouver.ca/parks-recreation-culture/adapted-and-integrated-programs.aspx
• CORK (Creative Options for Recreational Kayaking): www.pikakayak.com
© Dallas and Ardith are retired teachers. They have been avid RVers for many years and are becoming more confident kayakers following in the wake of their daughter Rainbow.
More resources: Vancouver Park Board hosts a Disabled Kayaking Camp in late May and early September each year (in Squamish – 2 nights) and an introduction to Disabled Kayaking at Trout Lake in mid-July.