March 13, 2017
Building relationships is at the core of everything we do. Once we have relationships, we can discover gifts, make new friends and share our lives as part of connected communities. Here's a recent glimpse of Denise and Sophie's visit to White Rock…
Denise told me about Gord, the man she used to meet for coffee and a muffin. After a while, they would stand up, hug and she would see him on his way to work – her 'husband without strings attached'. They met at New West Quay.
Memories arise in Denise depending on where we are. She talked about her childhood visits to White Rock – the summer cabins that used to be there. It's different now, but as I smelled the wind coming off the waves, I could see how time might get relaxed as memories mingle with present day.  We walked to the white rock of White Rock.
Denise suggested we visit the Museum and Archives at the old train station on the waterfront. She traded stories of old White Rock with the museum volunteer. As we walked to the rock past the pier, Denise suggested we name ourselves the Museum Ladies and make regular visits to museums. We decided that once a month we will visit a new museum in the Lower Mainland and invite friends to join us. She has expressed interest in the Museum of Anthropology next month!
We stopped for lunch at Jan's across from the museum, and enjoyed some fish and chips together discussing details of our next trip out. We had fun driving up the steepest hill either of us had ever been on – Oxford St in White Rock!
Den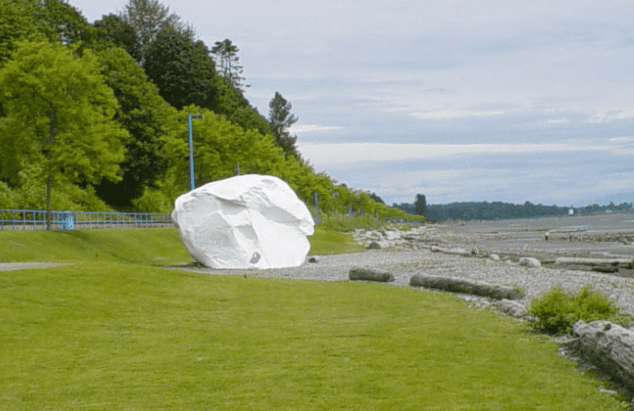 ise loves to travel and enjoyed the rainy drive back to her bible study class in New West. As usual we laughed at some superb Denise-isms along the way:
'up my nose with a rubber hose',
'it's my mind I miss the most',
'it's my goal in life to get across the road without hitting the pavement'.
Later that day, I spoke with Denise's friend whom she talks to around once a week. The three of us hope to meet next time we visit White Rock.