July 6, 2017
As part of our "Throwback Thursday" blogging series, we've decided to share a piece from our May 1992 PLAN Facts Newsletter. It's written by Paul Varley, who's brother Scott joined PLAN in 1991.
The sibling relationship is often the longest relationship we will have in our lives, but not always. As we take time to honour Paul and Scott in today's post, we also want to acknowledge and celebrate the countless non-sibling relationships which offer the same level of depth, compassion and enduring natural care.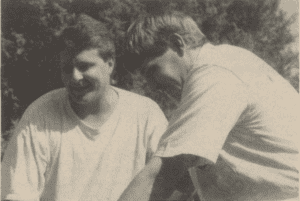 My Brother Scott (written by Paul Varley)
For over a year now, my friend and brother Scott has been involved with the Planned Lifetime Advocacy Network (PLAN). Although my own involvement only covers about one half of that time, I feel that the benefits to Scott through his PLAN participation have been both many and significant.  I believe that the PLAN interaction has given Scott a new way of seeing his world, and although he occasionally still has bouts of "television-itis", he now seems more assured of the fact that he has friends who desire and enjoy his company.  Most importantly, he seems much more willing and able to initiate these interactions, I believe as a direct result of the increased confidence and self-esteem Scott now holds. Scott his now more clearly focused on his strengths and similarities to others, rather than differences.
Since becoming involved in the PLAN network in the Fall of 1991, I have watched Scott grow dramatically in confidence, interpersonal relations and verbal skills. Scott's facilitator for his network, Irene, has developed a wonderful rapport with him, and has been effective in bringing together Scott's network.  Irene's husband, Greg, and Scott are now friends. Scott and Greg have enjoyed, among other things, skating, bus riding and simply "hanging out".
This friendship has been very important, for although Scott has five loving brothers and therefore the opportunity for male companionship, these interactions have been largely controlled by the brothers, and not by Scott.  I feel that I and Scott's other brothers (and our friends), although well intentioned, may not have always helped Scott to become an adult.  Scott is no longer "Scottie", although we may have been slow to understand this fact. Scott's relationship with Greg has given him a new, adult standard by which to measure his other relations and I believe this has been a significant event in Scott's maturation, for he is no longer accepting of the "status quo". Scott now not only desires, he almost demands, that relationships with him be on an adult level.  I say: "way to go Scott!"
A member of Scott's network who has met and exceeded these standards is Brenda.  Scott's time with Brenda, and with Irene, has been very important in helping to learn valuable skills with a peer of the opposite sex, something that was noticeably lacking in his past. These interactions will hopefully provide Scott with some of the skills required to interact socially with women in the future. 
I have learned as much about myself during the past six months as I have about Scott. His growth has challenged me to grow as well, and together we are now involved in regular activities like bowling and soccer. We share a new and dynamic friendship which encourages us both to better meet the needs of each other, and further, to meet the needs of important others in our lives.
Scott's world has expanded due to the PLAN network that now surrounds him.  His new telephone allows him to "speed dial" many of his peers, and by all reports he is making frequent calls.  This is a rather striking departure from the "old Scott" who perhaps was not lacking in the skills, but in the confidence necessary to initiate such interactions.  I feel that Scott likes himself more, values his input in other's lives, and recognizes that friendships are a "two-way street".
Hopefully, through the PLAN network and its future expansion, we will see Scott continue to grow and mature. One thing is certain however, that although there is always room for improvement and reworking, the PLAN concept is a sound one, and its principles must be maintained if individuals like Scott are to reach their potential as integrated, functional members of our complex, ever changing world.