July 7, 2017
We are sad to inform you that Joan Lawrence passed away on July 2, 2017 at her home in Langley. Those closest to Joan say that she remained her feisty, clear headed self pretty much until the end. Her family was nearby and are relieved that she is at peace. Staff at the care home where she lived revered her (no surprise) and shed many tears at her passing.
At this time there is a small family oriented service planned. There may be something larger later in the summer. We will update you as information becomes available
Many of you will know Joan as an important leader in our family movement. In addition to co-founding PLAN in 1989, she received Canada's Meritorious Service Medal for the many contributions she made to enrich our community.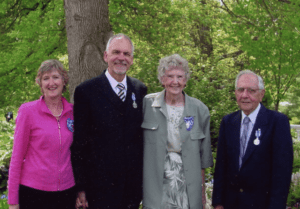 Although born in Edmonton, Joan considered Vancouver to be her home where she and Eric Lawrence married and raised Richard, Susan and Keith. Joan loved her work at the VGH Burn Unit, was passionate about travelling, golf, bridge, and her fellow Tip Toppers.
Since Keith's birth with Down's Syndrome Joan became a legendary teacher, mentor and advocate. She had dignity, integrity and an attitude of steely determination. We are all so honoured to have loved and to have known her.
In passing, Joan joins her son, Keith, mother Iva, and her beloved Bill. In a lifetime that touched so many, Joan's courageous legacy lives on through her work to build a more caring, compassionate and inclusive society.