August 23, 2017
In recognition of PLAN's commitment to Family Leadership, both within our organization and in the broader community, we were recently invited to collaborate on a project with the Laurier Institution and DiverseCity onBoard.
The project involves developing resources to empower families and people with disabilities to contribute to Boards in the non-profit and for-profit sectors. It's also intended to benefit other people who tend to be under-represented in such leadership positions. We are joined in this project by Inclusion BC, Posabilities and BC People First Society.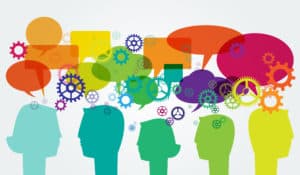 Our work began by reviewing some of the existing training materials created by DiverseCity onBoard. Then we held a lively discussion about the importance of language, style and being accessible to a variety of learning styles. The need for plain language was identified as particularly important.
We're excited to continue working on this project in the months ahead. If we are truly committed to empowering leadership for families and people with disabilities, we need to make sure there are resources available to help people understand the rights, commitments and obligations of serving on a Board.
Thank you for including us in this important opportunity!