August 24, 2017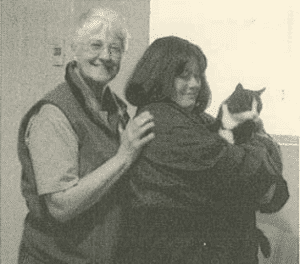 Today's Throwback Thursday post is from our Winter 2002 PLANfacts newsletter. It's written by a former PLAN Mentor named Ruth Sherk. Ruth share's the story of Annette and the transformations she made with the people in her Personal Support Network.
By helping her make decisions, find a place to call home, and providing companionship and opportunities to contribute, Annette's network made a significant impact on her life. This story is a great reminder that having a network of caring friends and relationships really is the foundation for a good life.
We invite you to read "Journeying to a Good Life": 
—
Annette's compassion toward animals, her enthusiasm for sports and her wonderful sense of humour are qualities her friends and family admire. Those contributions of spirit were really evident at Annette's last network meeting. Contributing to others helps Annette achieve a good life.
A good life is also having a group of family and friends whom you can count on when you need them. Friends believe in you when you need to gather the courage to take on a new challenge; they assist with  practical daily issues.
Three years ago, Annette's life was in confusion. Her health, housing and relationship issues were larger than life some days. With anticipation and hope, Annette's family, friends, caregivers, Ministry staff and PLAN advocates began a process of etching out a plan with Annette.  The many barriers were discouraging but Annette's family never gave up. Her dad's absolute determination kept everyone working toward a common goal. The result is a testament to the power of having a network of family, friends and advocates on your side. Hours of concentrated effort were given by many people to assist Annette in finding a new place to call home.
Today I am pleased to say, with the help of family and friends, a good life is being carved onto a delicate heart. In September 2002 Annette moved from Ladner to Abbotsford. Her friends supported her through the many hopeful and frustrating moments in this transition.
Annette says "I look forward to seeing Ann, Sue and Michelle at the PLAN meetings. I have known Ann and Sue for about 10-12 years, Michelle about 5 years. I know Christine from going to the Scottsdale Mall. I wish I lived closer to them. I am happy and I am glad my dad joined PLAN."
The move from her familiar neighbourhood was bitter-sweet for Annette and her friends since they now live almost an hour apart. They have stayed connected with the assistance of a Annette's PLAN Facilitator, Gail Epp. The network is committed to continue meeting once a month for their "hour-long-jaw-wag" at a local restaurant… listening and talking with Annette about their lives and events. Change is not easy and Annette's friends are doing their best to support her in making the adjustment to a new community.
Gail says , "To know Annette is to love Annette…she has a wonderful sense of humour and a warm smile." She believes that the members of Annette's network are very strong members and will be there for Annette as long as they are able.
The quality of Annette's life will continue to grow as she is introduced to new friends and neighbours.