September 13, 2017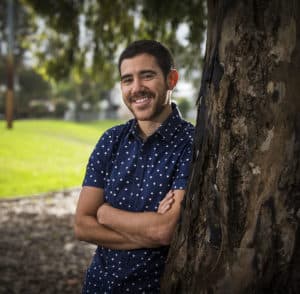 Nick Maisey is an Occupational Therapist, social entrepreneur and community builder from Perth, Western Australia. Thanks to the support of the Westpac Bicentennial Foundation, he was awarded a Social Change Fellowship to undertake an international information exchange, enhancing his learning of innovative, effective approaches to fostering the development of relationships and community connections. We're pleased to share a post from Nick about the time he spent here in Vancouver.
Flipping the balance of power and expertise
It only took me two weeks to fall in love with Vancouver. As I recover from the emotional hangover of having had to leave behind my 'Canadian family,' my Canadian neighbourhood, and my fave local vegie burrito joint (just quietly impressed that I could become a 'regular' in two weeks), I reflect on what's to be truly appreciated about British Colombia's community sector. Distilling two weeks of enriching learning experiences is no mean feat, but as I look back on my time spent with disability sector organisations, funders and community builders, I see a pattern emerging, a pattern related to the themes of power, assets and expertise. I will do my humble best to unpack this to prompt questioning about the attitudes, approaches and capabilities that it takes to foster inclusive, connected communities. Put the kettle on, settle in.
The local context
It may have ranked consistently as one of the top 3 most liveable cities in the world since 2004 on the EIU's Global Liveability Ranking, but Vancouver is not a utopia; it is a community like any other, with its share of challenges to prosperity, wellbeing and resilience. Of particular relevance for me and my Fellowship undertaking was the discovery of a piece of work by the Vancouver Foundation, who in 2011, set out to learn what issue local people cared about the most. The initial discovery exercise polled 275 charitable organisations and sought the perspectives of over 100 community leaders.
"What they told us was a surprise. We expected people would choose poverty or housing or any of the issues that dominate the headlines. But what people said concerned them the most was a growing sense of isolation and disconnection… They said we live increasingly in silos, separated by ethnicity, culture, language, income, age and even geography. They lamented what they saw as a deepening civic malaise… They said this corrosion of caring and social isolation hurts them personally and hurts their community… And they asked us a hard question: How can we begin to tackle complex issues like poverty and homelessness if people are disconnected, isolated and indifferent? How can we make people care about community issues if their concern stops at their front yard?"
The undertaking of further market research yielded a multitude of insights relating to the state of connection and engagement, including:
1 in 3 people said that it is hard to make friends in Vancouver.
1 in 4 people spend more time alone than they would like to. This experience was also directly correlated with poorer health, lower trust and a hardening of attitudes towards others.
50% of people who have lived here fewer than 5 years say it's hard to make friends here.
Neighbourhood connections are cordial, but weak. Most people know the names of at least 2 neighbours, but connections typically stop there.
Many people are retreating from community life. In the past year, more than the majority had not participated in any community activities. The most often-cited reason is not a lack of time, but the feeling of having little to offer (27%).
"People are polite but I wish they were more friendly."
"I wish people would take more time out to connect with each other. Everyone is always so busy these days and concerned about their own lives without making real-life connections with people."
"We have lost a fair amount of the community neighbourhood feeling we had 20 years ago. I'd like to have that back."
Ultimately, this left the Vancouver Foundation with the question: What can we do to help build a more connected and engaged community in Vancouver?
Flipping funding
One of the ways in which the Vancouver Foundation have responded is with a $1 million investment into expanding their Neighbourhood Small Grants program across the Vancouver metropolitan area. This program supports local residents to access up to $500 for projects designed to connect and engage their neighbours, share skills, and celebrate diversity. I found the structure of the funding program to be as impressive as the investment itself – Rather than retain their position as central decision-makers, the Foundation relinquish this power to local communities, with small groups of local residents acting as advisory committees, to make the ultimate decisions about projects submitted by residents. As Trina Prior, Manager Grants & Community Initiatives explains,
"Your idea is evaluated by a committee of your peers. We leave community building in the hands of the people that know best – your community."
This sense of humility and attitude of "the community knows best" came through again when I spoke with Jack Styan, Shelley Gerber and Jessica Humphrey from Community Living BC, the main funder of services and supports for people with disabilities in the province. Jack explained that when it came to designing and improving service and support offerings,
"We really have adopted an approach of user-led design, that becomes an accelerator of innovation."
CLBC are testing the application of user-led design to a new soon-to-be-piloted initiative focusing on the four pillars of employment, lifelong learning, relationships and community connections. The funder have also pushed the boundaries of traditional service-based funding to support the resourcing of ethnographic research, development, piloting and scaling of an initiative aimed at fostering lifelong learning, employment and community connections. Through our conversations, I also gained a strong sense of CLBC's high value for individual and family-led expertise and solutions, such as the parent-led 'Steps Forward' initiative supporting inclusion post-secondary education.
Organisations as facilitators
The strong theme of valuing the lived experience of individuals came through again with disability sector organisations. Aaron Johannes and the folks connected with Spectrum Society have been stewarding the conversation around the importance of natural relationships for a number of years, working with people with disabilities to write literature, publish books, co-facilitate workshops and share ideas to foster friendships. Aaron was kind enough to gift me a copy of two of their publications, "101 Ways to Make Friends," and "101 Ways to Facilitate Making Friends." The introduction of the latter gives insights into their fundamental shift in thinking and practising, to view everything that they do through a lens of relationships, and to shift their perspective on who the 'experts' are. Co-author Susan Stanfield cites one of their most important shifts in thinking as being the need to "find ways to give leadership for their relationships to the folks we support."
"No one is more experienced or able to show us the way than the people who are at the heart of this discussion, those who fought to close institutions and overcome age-old stereotypes to gain the right of citizenship…Some of the best ideas in this book came from folks with disabilities who have built their own personal support networks, often without (or even despite) our assistance as paid supporters. The lessons to be learned from their example cannot be understated… As service providers, we must learn to facilitate, rather than supplant, these natural relationships – to expand our thinking about the gifts and contributions folks have to offer and be appreciated for."
Power-sharing & collaboration for the win
An innovative new initiative supporting relationships, lifelong learning and community connections is the skill-sharing initiative Kudoz. Individuals from the community volunteer to create 1-hour learning experiences, which can range from 3D animation to anime drawing, bread making, magic card tricks, indigenous culture and working in a tech start-up. Experience Curators Laura Cuthbert and Nicki Markwick explained how Kudoz wouldn't have come about had it not been for the willingness of three large disability service providers to put aside power struggles, come together, collaborate and commit resources (a sizeable investment from each org) to testing an innovative new user-led-designed venture together.
Rebecca Pauls, Director of Planned Lifetime Advocacy Network (PLAN) also acknowledged the importance of being guided by the experts, respecting the individuals who have been blazing the trail of inclusion for decades.
"Building networks with people is hard. We're constantly learning. A lot of our families have been at this for 30 years. Let's look at what we already know. Families just create solutions, they are the masters of it. They've been doing it for decades to keep their children out of institutions, to advocate for real lives."
As a family-led network, the folks at PLAN know the deep importance of relationships, prioritising Personal Support Networks as one of their three key domains of focus. Listening to Rebecca describe the rich experiences of PLAN, it was apparent that they approach this work with deep intention, grounded in the vision that people have for the relationships in their own life. From the first conversation, a PLAN mentor skilfully questions and seeks to uncover this vision.
"People are almost always looking for more people in their life. If they are, we ask, Who would those people be? What would they be like? What would they do? We've brought new people in by identifying what that 'role' would be. If you have eyes for that, it's much easier to find. Neighbourhoods are so abundant, if you show up with the eyes for it."
She followed this up with the example of a woman who, when queried about her ideal relationships, articulated that she actually would really love someone who could come in every so often and read her mail to her. She acknowledged that she had trouble with reading, and every time she opened her mail, she didn't know if she was receiving an eviction notice or simply junk mail! This insight from 'the expert' had led Rebecca to facilitate a connection with a neighbour, who was more than happy to be introduced to the woman and swing by on occasion to read the mail together over a cup of tea.
Living rooms over Boardrooms
Another inspiring discovery of an approach catalysing change in the social sector was the work done by In With Forward, a social design organisation 'making human services more human.' Senior Service Designer Yani Kasdani explained that when the organisation started 3.5 years ago, they focused on designing, creating and testing solutions with input from social sector organisations. They concluded that this approach wasn't yielding the effectiveness or sustainability that they'd hope to see, for a number of reasons – It often resulted in 'side projects' that were resource intensive for the organisation to start up and maintain, and the staff often felt less ownership over something that felt like it had been developed externally. This learning had resulted in the evolution of their model to focus on the creation of Grounded Space, a social research & design collective, through which social sector staff from partnering organisations receive training and development in ethnography, design, prototyping and community engagement, form embedded research teams to dive deeply into the human experiences of their service users, and work with their communities to design, develop and test solutions to complex social issues.
"We call our approach Grounded Change. That means flipping the order in which most social policies and services are made. Rather than start at the top, in boardrooms, we start at the bottom, in living rooms."
Once again, the smell of humility was strong in the air, with the IWF team appearing to have a deep belief in the expertise of individuals in designing solutions that will ultimately meet the needs of their own lives and their communities.
How do we flip the balance of power from boardrooms to living rooms, to reform our social sector and truly tackle the wicked social problems we face? Perhaps we can start with having these conversations with our teams, with our organisations, with our funders, with our communities:
What are the core attitudes, beliefs and values that we need to foster in our social sector organisations? What are the qualities and capabilities that we need to be recruiting for, training, nurturing and developing in our people?
What does it really look like in practice to relinquish power, to view people and organisations for their assets and gifts, to be the expert in not being the expert?
What does a social sector look like in which people are truly seen and held as the experts on their own lives and communities? How do we overcome the history of our roles, our organisations, our sectors and our communities to shift the balance of power?
You can read more from Nick on his blog: In the Village.