October 23, 2017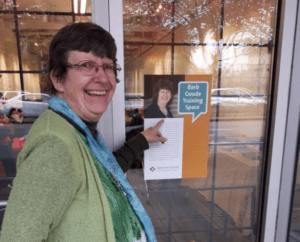 Barb Goode, a valued member of PLAN's Board and a Lifetime Member, was recently honoured by Spectrum Society for Community Living. In recognition of Barb's decades of contribution to the Community Living Movement, Spectrum unveiled the "Barb Goode Training Space".
Barb has many significant accomplishments: In 1995, she addressed the UN General Assembly, becoming the first self-advocate to do so. Barb also participated in the EVE case back in the early 1980s, where the Supreme Court of Canada ruled adults with developmental disabilities cannot be forcibly sterilized.
In addition to her leadership role at PLAN, Barb has also been on the Boards of BC People First, Inclusion BC, the Canadian Association for Community Living (CACL), and International Inclusion. In 2011, she published her memoirs called A Goode Life, and is currently working on the next edition.
Congratulations Barb, and thank you!