February 6, 2018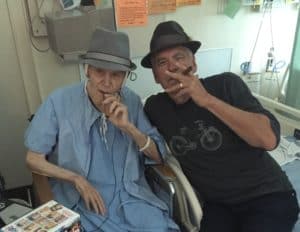 When Phil Allen passed away at 89 years, we lost a visionary, and a friend. Phil was a tireless advocate for the rights of all citizens, and every one of us has been enriched by his countless contributions.
At the Celebration of Phil's Life last fall, PLAN's co-founder Al Etmanski delivered a passionate speech to honour a friend he's known since 1985.  Al's word's touched us then, and now we'd like to share them with you:
—
Desperado Waiting for a Train:
It's after midnight, the prairie wind is blowing cold and people are secure in their cells at the school for the incurables. Or are they?
Curfew was hours ago and the guards are lulled into drowsiness. Or maybe they've been bribed. Possibly charmed. He was always pretty good at that.
Either way he's determined to escape. Desperate.
So are his accomplices. Determined for him although sadly not for themselves. For whatever reasons they've accepted that escape is not an option for them.
But they know a good one when they see him.
They know whatever good he can do – for them and for others like them can only occur on the outside. Outside the gates of this dirty, stinking, soul-less place that some joker called a "school." The place where in his words, "the only thing they taught you was how to feel forgotten."
They're counting on him to break free. And he does, hitching a ride to the rail yard.
A desperado waiting for a train.
He hops onto the first boxcar that comes his way
and just keeps rolling. West across the prairies, through the wild majestic mountains until he reaches the fog bound coast and the slippery city streets of Vancouver.
Where he could breathe free. At last.
Where he could have what he always wanted ­––an ordinary life. And where he could begin to blaze a trail for himself and others with disabilities.
I don't think Phil Allen ever stopped being a desperado.
And why not? It served his purposes well.
How else can you account for the fact that his story hangs out in books (including his autobiography) that are read around the world?
Or that thanks to his presentations, a generation of college and university students understand a little bit more about one of society's hidden shames – the ruthless segregation of people with disabilities.
Or that he got the girl in the end. Wendy, the most beautiful, vivacious and kind- hearted one around.
Let me be clear,
Phil wasn't the kind of desperado who ends up lying about his, "I could have been a contender" life.
Nor the kind who blows in the wind with uncertainty.
He was the kind who boldly went where no one went before. Who knew what he wanted and went after it. For himself and for those he left behind.
It's hard to imagine what it was like back then
This was an era when living in the community was unthinkable Let alone holding down a job, dating, or living in a place you could call your home. Unspeakable dreams. Unimaginable possibilities.
Simple things. Ordinary things.
That all began to change the day a desperado by the name of Phil Allen came to town.
Phil tackled that final frontier – life outside institutions for disabled people with his trademark philosophy –"that there are wonderful things out there for you to learn and all you need to do is pay attention."
Like all desperados Phil knew how to turn the tables. I still smile at the memory of Phil and Wendy coming to teach at my Summer School classes at the University of British Columbia. He knew that people were looking for a hard luck story about life inside the institution. They were primed to feel sorry for him. Instead that trickster would start a conversation about what it took to keep a marriage strong. Before long the teachers were asking him for advice about their own relationships and marriages. Point well made Phil.
It's no surprise that Phil liked regular, John Wayne type westerns as well as future oriented westerns like Star Trek, given the wide open spaces of his prairie roots. Looking at pictures of him back then he had matinee idol good looks.  A young Captain Kirk. It's no wonder it was love at first sight for Wendy and him.
I got to be his sidekick from time to time
We never really talked about disability stuff when we got together. We talked about his various collections of badges, stamps and coins. Where we might go to eat. What movie we'd go to.
Occasionally we talked about the meaning of life, in particular, the meaning of his life.
Phil wanted the world to know that he earned his way. And that all he ever wanted to do was to make a difference.
Well Phil to me you are one of the heroes of this country.
There are very few people who can take adversity and make something extraordinary out of it.
Who know you don't lose your edge by loving.
Who played against the dealer and beat the no-win scenario they had been handed.
The last time I saw Phil he was tethered to tubes and lines in the hospital.
"I don't mind that that son of a gun is coming," he said. "I've got it all sorted out. I know Wendy will be well taken care of by her family, her friends, her church and PLAN. And I know I made a difference."
He was beaming as he said that.
That desperado, our desperado, no longer waiting for a train. After nearly ninety years of living he was about to board his very own starship.
(Phil Allen, November 18, 1927 ­– September 11, 2017. Lover of Wendy, life and all things Star Trek.)
—
To learn more about Phil Allen, his life and his legacy: