September 11, 2018
I was introduced to Tom around 3 years ago through my friend Ken who had just become his Connector, a new endeavour that I was honoured to be a part of.
Tom is an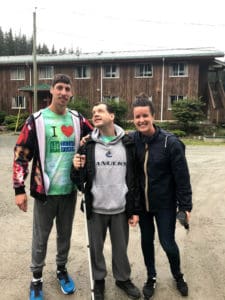 unobtrusive, sweet, endearing, humble man that everyone falls in love with when they meet him. From the start, Ken and Tom would occasionally include me in their hangouts.
Understanding Tom took some time.
Ken once asked me how I felt about hanging out with him on my own but I wasn't comfortable with the idea. The thought of supporting a man who had no sight and limited communication skills on my own was intimidating; being with the two of them or in a group was perfect. There were things Tom would do that were still unpredictable to me; I needed experience and to get to know him- to really understand his ins and outs before our friendship could be one-on-one. I wasn't comfortable caring for him alone and Ken was very understanding.
A year after meeting Tom I went through some personal stressors in my life that caused me an overwhelming amount of pain. I didn't quite know how to handle life or where to find relief. Around that time I also started a job that required me to support children with very challenging needs.
Life was just hard and Ken and Tom continued to invite me out, perhaps even more frequently.
Experiencing Tom's world brought me solace.
We would go to Tom's Special O dinners and dances, birthday parties, and for walks in the park.
His community was fun and embracing.
There was never any hesitation to join in on my end.
I found myself making their invites a priority and anticipating the next time I'd get to dress up and have some fun.
Being with them and surrounded by Tom's friends didn't provide a lot of opportunity for me to focus on myself or what was going on in my life. I liked and needed that. Plus, I was gaining confidence.
(Ken and I would joke about how grand his social life and popularity was compared to ours.)
After multiple years of friendship I am secure with Tom on my own and can support him more effectively. I accepted the opportunity to come alongside him for a week at camp in August and I am so glad I did. I knew it wouldn't be easy caring for him on my own and mentally I had some fears to overcome, but it went so well. I was proud to support him as a friend and to help make his experience successful and fun.
Tom has a pure heart and freely accepts those who care about him into his life. There is never any judging by either party and I love that!
Honestly, I would say he has always been a better friend to me than I am to him.
He unfailingly brings me happiness and joy, challenges me to think more of others than myself, and of what's really important in life. A genuine friendship has been built and I don't hold back sharing with friends and family about Tom's character and how thankful I am to have him in my life. He is a very special, well-loved young man with a connector far superior than all the rest.
Written by Tom's Friend: Justine Telford