August 28, 2019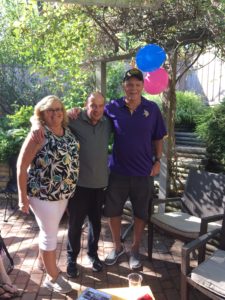 It has been 20 year since John Burns has played soccer with the Special Olympics, but recently this and so much more has changed. When John's past athlete mentor Anita met John at a PLAN event and invited him to become a volunteer assistant soccer coach for the Special Olympics an old relationship was rediscovered.
At the first practice head coaches Rod and Rita, who have been coaching for 25 years, were over the moon when they saw John walking up to the field. John was welcomed back with lots of warm hugs. You see, back in the 90's Rod and Rita were John's Special Olympic soccer coaches. In fact, John was the star player that led the Special Olympic soccer team to the Provincials! 
When Rod introduced John to the current Special Olympics soccer team he highly praised John's skills and sportsmanship to the group and gave him an honoured position with the coaches.
Over this season John has gone to every practice he could, as well as to the tournament, and his relationship with Rod and Rita has rekindled. The deep connection John feels for his old friends came to the foreground this August, as when planning the guest list for his 60th birthday celebration John put Rod and Rita at the top of his list! And the feeling is mutual for not only were Rod and Rita excited to be invited they said yes as soon as the invitation came out!
So this past August 25th John celebrated his 60th birthday surrounded by many caring, committed and actively involved friends and family members.