August 30, 2019
A Reflection Shared by Kevin Lee, PLAN Mentor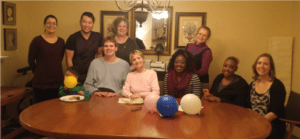 Back in July 2018, a special person close to my heart had their celebration of life – Kathy Caldicott.
She was mother to Patrick, who is a PLAN lifetime member.
Both she and Norm, her husband and Patrick's Dad were textbook advocates for their son.  They ensured that he had an engaging weekly schedule and were creative and persistent in helping him to live a great life in his community.  Their primary concern was always Patrick's current and future well being.
Kathy and Norm did all this while Kathy had more than her own fair share of hardships.  She had a terminal illness which was slowly causing her nervous system to shut down.  She lived with horrible bouts of dizziness and pain.  I recall when we first met in 2015, Kathy could not go far from her bed so we met in the living room while she looked down from the top of the stairs.  Kathy would often sit or recline on the floor, usually with a glass of white wine while partaking in our discussions.
Despite her fatigue she had fire — a fiery passion that I recognize in many parents.
"Where will my child be after I am gone? 
Who will take care of them? 
Will they be happy?" 
These are questions about the safety and security of one's family.
I became their PLAN Connector understanding that these were the issues facing this family, and we would not know how long Kathy would be with us.
Kathy also had a spark for life, a fighting spirit.  She wanted to take charge and have adventures.  The family had recently vacationed in Hawaii.  Even though she was not able to get out of her bed for most of it she made sure they all enjoyed the riches of Hawaii.  She was like this throughout her life.  I remember talking with Kathy over the phone and she lovingly told me "Kevin who will plan events if I don't do it?  Who will plan and host our next Christmas?!"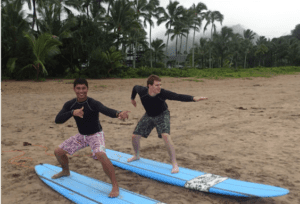 Since Kathy could not go out, our phone calls often developed into conversations about my "excitable" life.  At the end of one such phone call we talked about a goal for the family to be having Patrick in a good home-share and with a strong network of connections.  That way as parents they could have the peace of mind that is needed in order to face life's challenges.
For the next two years Kathy and Norm continued to support and advocate for Patrick.  So did PLAN.  Patrick's plan team grew to include Rebecca and Jule in addition to myself.  We worked as a team with the Caldicotts — advocating for CLBC funding, seeking housing services through PosAbilities, and reaching out to friends, family and communities looking for the right home and connections.  It was inspiring to see what could be accomplished by all of our combined efforts.  It was also incredible what Kathy could do despite all that she had going on with her health.
By May 2017 we got the CLBC funding and services we had sought, understanding the special considerations that were required.  But most importantly there finally came a caregiver who we felt understood what was needed — Anika.  Naturally, the transfer of knowledge often does not occur overnight.  Even to this day, knowledge and experiences are being shared.  Is every day perfect?  No.  Perfect would be no parent dying prematurely and society providing every person with all they need, but there was a strong understanding of what needed to happen and what people wanted to happen.  Moreover, appropriate priorities were established so that what we want to happen does not have to take precedence, but what needs to happen does.
On June 11, 2018 while I was out for a run Kathy called.  She asked how I was and what I was up to.  I let her know that I was outside, close to home, on a beautiful day and I was ready and able to talk.  She told me that it was time.  Her body was not well.  She was feeling less and less like herself so she set a date for a doctor and death doula to help her with that final leg in her journey.  She also shared her relief that Patrick had a second home with Anika, that with Norm's help she had set up a network of friends and relationships to actively participate  in different aspects of Patrick's life, and that Norm and others would be there for Patrick after she was gone.  We mutually shared our thanks and love.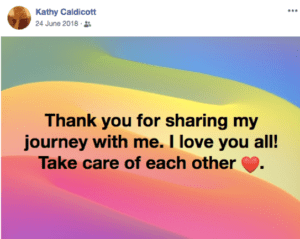 Last July, I had a glass of wine for the anniversary of her life.  The emotional impact of the anniversary, however, didn't fully hit me until I was at the movies watching the Lion King.
The scene where Mufasa saves Simba by rushing into a stampede and then scales a sheer cliff to get his cub out of harm's way triggered a flood of emotions and thoughts of Kathy.
It was deeply symbolic of the struggles and adversity that parents go through for their children.  Later, when Simba approaches the body of his father, I began to realize that with Kathy's passing, despite all preparation and documentation so much wisdom, guidance and care is no longer with us,  not only for her child, but for his allies and advocates as well.
Thank you Kathy for caring so much, teaching so much and living so fully.
Missing you,
~ Kevin