May 5, 2020
Kristina's song Lost and Found moves from a little girl's ambitions to sing like the Little Mermaid to a young woman pursuing her post-secondary musical ambitions.  We are sure you will appreciate hearing Kristina's story and her music.  Check it out:
Remarkably soulful songstress Kristina Shelden appears to be fractured along with her spinal cord in a life altering car accident. Neither tragic nor heroic, Shelden finds herself undaunted and buoyed by new willfulness to pursue her music and recording in a new body with a different community of friends –the remarkable disability community.
Kristina will be performing at The Power of Disability Concert on Saturday, May 9, 2020.
The Power of Disability Concert is a live-streamed celebration showcasing the power of disability through music, storytelling, and humour. It will entertain and bring joy and laughter into your lives, create a sense of community and to remind ourselves we're in this together.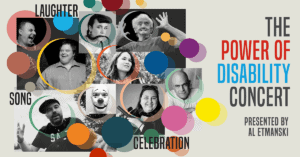 Ticket proceeds go to Planned Lifetime Advocacy Network. PLAN has been building networks of support for more than thirty years and have ramped up their work during this virus.