February 10, 2021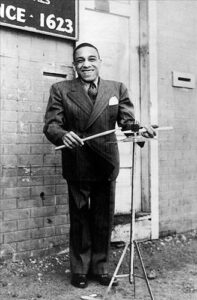 This week in history:
February 10th 1905 is the birthday of the "king of drums" William Henry "Chick" Webb. He acquired spinal tuberculosis as a child which limited his mobility and resulted in a curved spine and short stature. A doctor suggested he take up drumming to "loosen his bones." He became one of the most highly regarded bandleaders and drummers of the new "swing" style. His hard driving drumming style and showmanship influenced Buddy Rich, Art Blakey and Gene Krupa. The Chick Webb Orchestra was the house band at the legendary Savoy Ballroom for years. Their theme song was "Stomping at the Savoy."
They reached the height of their popularity with the novelty hit, "A-Tisket, A-Tasket" featuring a teenaged Ella Fitzgerald as vocalist. Webb died in 1939. His funeral procession included eighty cars. The church was unable to hold all the mourners.
Learn more about William and other people with disabilities who have been overlooked or left out throughout history in Al Etmanski's Disability Digest: https://aletmanski.com/power-of…/disability-digest-5/