April 2, 2021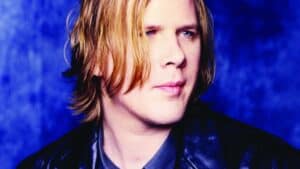 On March 25 jazz and blues-rock singer guitarist and songwriter Jeff Healey was born (1966). Healey became blind when he was a year old due to a rare form of cancer. He taught himself to play the guitar at age 4 laying the instrument on his lap and playing it in much the same way as a pianist plays the keyboard. He was "discovered" in a Toronto club in 1982 by Texas blues guitarist, the late Stevie Ray Vaughan.
His hits include Angel Eyes and Hideaway which was nominated for a Grammy. His album See the Light reached platinum status in the United States. Healey also played the trumpet and clarinet in his own traditional jazz band, the Jazz Wizards. He collected as many as 30,000 old-time jazz records which he played as the host of an hour-long radio show on the Canadian Broadcasting Corporation.
In January 2007, Guitar Player magazine wrote, "Jeff Healey may be the only cat around who can play the prewar jazz of Louis Armstrong on the trumpet, and the heavy electric blues-rock of ZZ Top on the guitar." Healey died in 2008. He was inducted into Canada's Walk of Fame in 2014.
————–
This post is from the new Disability Digest , written by Al Etmanski.  The Digest was created to correct what history has overlooked, the contributions of people with disability. Since the beginning of time people with disability have produced exquisite works of art, made us laugh, and touched our souls. They have fought for justice, been instrumental in the growth of freedom and democracy, and unveiled the secrets of the universe.
As you will soon discover disabled people are still doing all these things and more. Each issue of the Disability Digest leads with a work of art, followed by short profiles, important dates and Did-you-know facts.
To Receive the Disability Digest each week in your inbox, please sign up here:  https://aletmanski.com/disability-digest/