April 2, 2021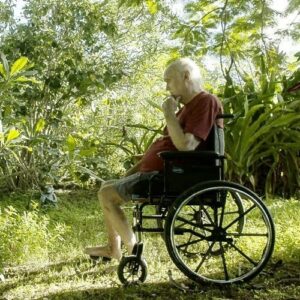 On April 6th Ram Dass, spiritual teacher and author of Be Here Now was born (1931). Ram Dass means "servant of God." In 1997 he had a stroke that paralyzed him on one side and limited his ability to speak. That's when he learned, as he described it, to "surf the silence," and to use a wheelchair.
"I don't wish you the stroke, but I wish you the grace of the stroke," he told an interviewer in the 2017 film Ram Dass: Going Home. "Make friends with change," he said including changes to your body and the ultimate change, death. "Death is the biggest change we'll face, so we need to practice change," he added.
Ram Dass died in December 2019. He was eighty-eight. "Suffering only shows where you are attached," he said. "That is why to those on the path, suffering is grace."
————–
This post is from the new Disability Digest , written by Al Etmanski.  The Digest was created to correct what history has overlooked, the contributions of people with disability. Since the beginning of time people with disability have produced exquisite works of art, made us laugh, and touched our souls. They have fought for justice, been instrumental in the growth of freedom and democracy, and unveiled the secrets of the universe.
As you will soon discover disabled people are still doing all these things and more. Each issue of the Disability Digest leads with a work of art, followed by short profiles, important dates and Did-you-know facts.
To Receive the Disability Digest each week in your inbox, please sign up here:  https://aletmanski.com/disability-digest/