January 20, 2023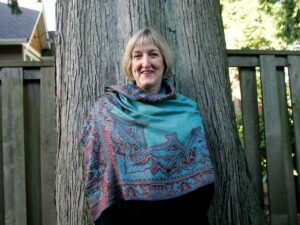 Vickie Cammack was a pioneer in developing real-life social networks to support people living with disabilities long before the online versions became ubiquitous, and she later embraced technology as a vital tool to connect and support vulnerable people.
She was twice invited to 10 Downing Street to share her insights about the non-professional love-based support that typically makes up 80 per cent of all caregiving; she convinced the Mayor of Barcelona to adopt her innovative social network technology in his city's high schools; and she had a transformative effect on live audiences from the United States and Australia to Brazil and Japan.
The light she shone on the devastating costs of isolation and loneliness led the Vancouver Foundation to release its influential reports on the issue. The emphasis she placed on the unheralded but essential care provided every day by ordinary people inspired Petro-Canada to create the CareMaker's Foundation to support family caregivers.
These contributions and others were recognized with a host of honours including the Order of Canada, the Humanitarian Award of the Canadian Psychological Association and the B.C. Community Achievement Award.
Yet she never sought to be the centre of attention and was at her happiest in nature, feeding her family or facilitating conversations about the beauty of human connection.
She was a prodigiously busy executive, but one never felt rushed in her presence. She could hold her own in the halls of power but was captured in a multitude of photos mugging for the camera.
Her oft-repeated guiding principle was: "If we had a society where caring was the currency that counted, we could save the world."
She was joined in that vision by her husband and social innovation partner, Al Etmanski, with whom she had such a deep personal and professional collaboration that filmmaker and disability rights advocate Bonnie Sherr Klein described their partnership as "so symbiotic that it is difficult to imagine one without the other."
Ms. Cammack, who died of cancer on Dec. 27 at 71, started spreading the concept of social networks in the 1980s, when Mark Zuckerberg was still in grade school.
Although circles of friends have long existed in the disability community and elsewhere, her genius lay in creating a replicable and sustainable model that gave families peace of mind and didn't rely on government funding.