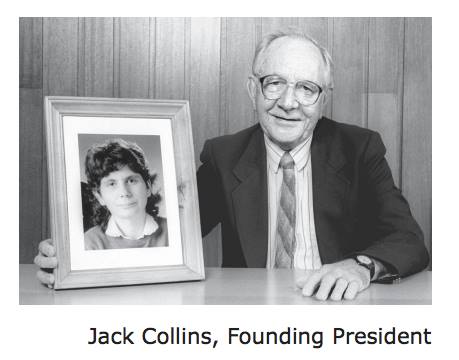 Jack Collins is synonymous with leadership, innovation and advocacy within BC's disability movement. His devotion to creating a rich and fulfilling life for his daughter Pam has inspired countless families throughout BC. As President of the BC Association for the Mentally Retarded (now Inclusion BC), he was instrumental in turning the association into one of the most focused and effective advocacy organizations in Canada.
Among Jack's many accomplishments is his involvement in the creation of POLARIS, an employment agency for people with mental disabilities and the Community Living Society which has pioneered the concept of individual funding and service brokerage. The culmination of Jack's commitment and generosity is manifested in his role as founding President of the Planned Lifetime Advocacy Network.  Jack's focus on the individual and their family; his faith in the ability of families to solve their own problems, and his belief in self-sufficiency are well integrated into PLAN's philosophy and organizational structure.
The Jack Collins Bursary is meant to honour Jack's pioneering role, and to create a testimonial to his continuing efforts to improve life for people with disabilities and their families in British Columbia.
Purpose of the Bursary:
To contribute to people with disabilities in realizing their dreams;
To enhance the life of people with a disability
To support people directly involved with PLAN
To assist people who want to become more involved with PLAN
Eligibility:
Lifetime Members will have a high priority
Awards will be made throughout the year, and announced at PLAN's AGM
Decision's will be made by the Director of PLAN
How to apply:
Please write to the Director of PLAN and describe:
What are you requesting the bursary for?
Why are you making this request?
What amount are you requesting?
What contribution you can make towards your request?
Who else have you asked?
Why should we grant your request?