July 20, 2017
This week's Throwback Thursday post is from our 2005 PLANfacts Newsletter. It shares the story of a trip taken that year by Phil and Wendy Allen to meet Phil's newly rediscovered family in Saskatoon. Phil spent the earliest part of his life in an institution, and for more than 50 years he has been an advocate for closing institutions and the rights of people with disabilities. Click here to read his story.
This trip was made possible by members of Phil and Wendy's Personal Support Network, and represents the best of what's possible by mobilizing relationships to change lives.
Phil and Wendy are still happily together in 2017. We share this in their honour.
—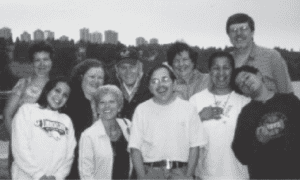 Phil and Wendy's Excellent Adventure
At the age of 75, Phil Allen discovered that he has two sisters who life in Saskatoon. Phil's mother is no longer alive and this was his first contact with any of his birth family. Phil's dream was to visit them. Phil and Wendy's Personal Support Network decided to raise funds so that they could make this trip and they were wildly successful. Many friends and organizations participated and PLAN was pleased to award a Jack Collins Bursary to Phil and Wendy. PLAN thanks the network for the opportunity to be a part of giving an amazing gift to an amazing couple. The following is an update from their network.
This October, Phil and Wendy had an incredible holiday with Phil's newly found sisters and family in Saskatoon. They want to share a little of their adventure with all their friends — and to send a huge THANKS! for helping to make this dream possible. Just imagine this — you get off a plane in Saskatoon and are warmly greeted by your two sisters and brothers-in-law. However, these are faces you've never seen before and only recently imagined.
And now you look into their faces and embrace for the first time. As Phil and Wendy told this story they cried and we cried right along with them. They were overjoyed and deeply moved to be a part of a larger family.
The night of Phil and Wendy's arrival they sat down to dinner with 12 family members. Not only did Phil meet his sisters, Leona and Eileen and their husbands, Bert and Ron, but he met a host of nieces, nephews, great nieces and great nephews too!
Phil and Wendy were treated generously and toured around the province over their two-week visit. They stayed with Eileen and Ron at their home in Shelbrooke. They travelled to Turtle Lake to stay at Leona and Burt's cabin. They went to the Science Museum in Regina, and on a day trip to North Battleford. They saw the Parliament Buildings and went to the Museum of Natural History.
On October 13 they went to the memorial for Phil's mom, Opal. Phil finally has a connection to his mother. As he gazed at her picture, and proudly passed it around, his eyes shone and he commented how he looks just like her and his sisters too.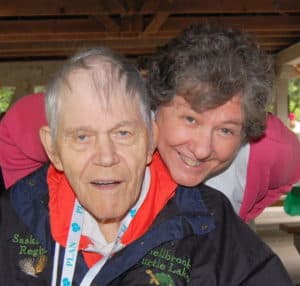 Thanksgiving dinner was very special this year. At Eileen and Ron's house, Phil and Wendy gazed around the table in awe, filled with the presence and love of 14 new family members. Together, they gave thanks for one another.
Tears rolled down Phil's face as he shared his memories and feelings of love as his new family saw them off at the airport. He chuckled as he remembered his sisters saying how they had always wanted a brother and now they had found him.
He said, "This was the best trip of my life." He talked of how hard it was to say goodbye but he is hopeful as one of his sisters talked of plans to visit him in BC next year. Phil and Wendy proudly introduced us to their family through the pictures they tenderly carried home. Pictures of Phil's mom, his sisters, brothers-in-law, nieces, nephews, and even great nieces and nephews. A newly found circle of family and belonging.